| | | |
| --- | --- | --- |
| | Products>Medical | |

A New Standard for Management and Operations

ULNM-A
CUMULUS is a device that automatically distinguishes the amounts and varieties of medicines used in surgery, recording the results. In addition to improving record-keeping while the nurses are performing surgery, it helps to prevent the loss of insurance claims that accompanies an information leak.

Characteristics

:
Load any syringes to be used into the device, and it will be able to distinguish between them and identify how many there are by reading their bar codes and confirming their labels visually, entering the information into a database. The collected data may be viewed or printed out using an application on a computer connected to the device.
 
CUMULUS

Operative

image

※Click this images to see a larger version.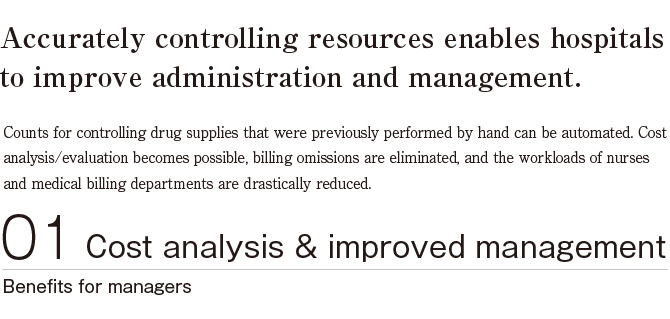 Optimization of variable surgical costs

Although minimally invasive for patients, endoscopic surgery can easily lead to deficits for hospitals. CUMULUS analysis tools optimize the use of the materials used in these operations. It is possible to reduce endoscopic surgery expenses by close to 50 per cent and achieve profitability.


A hospital evaluation was performed for laparoscopic cholecystectomies.
Surgical costs before the evaluation and the materials used were evaluated and annual costs were calculated.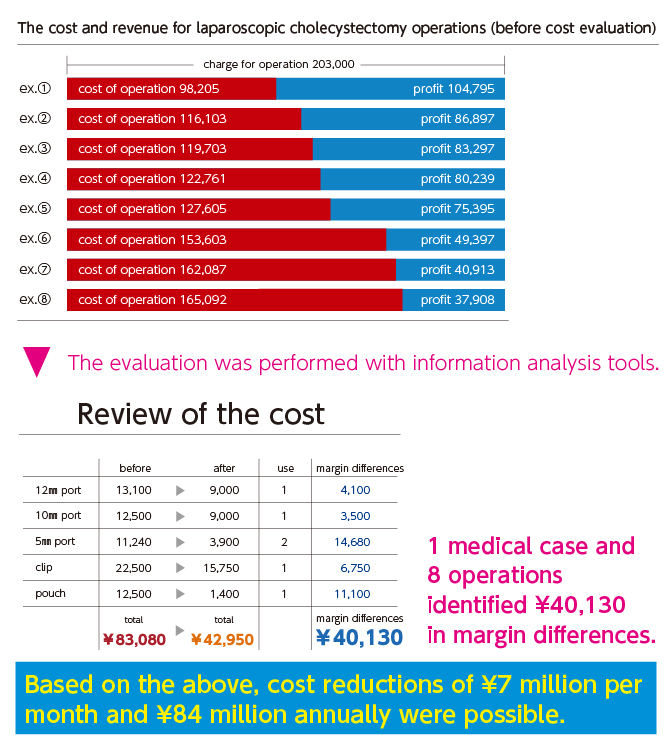 The main factor is reducing the workload of operating room nurses.

Through the automated reading system for injection drugs, the utilization rate for operating rooms is improved because post-surgery data-entry work is reduced.
For the above Hospital A, the utilization rate for operating rooms improved by 30 per cent.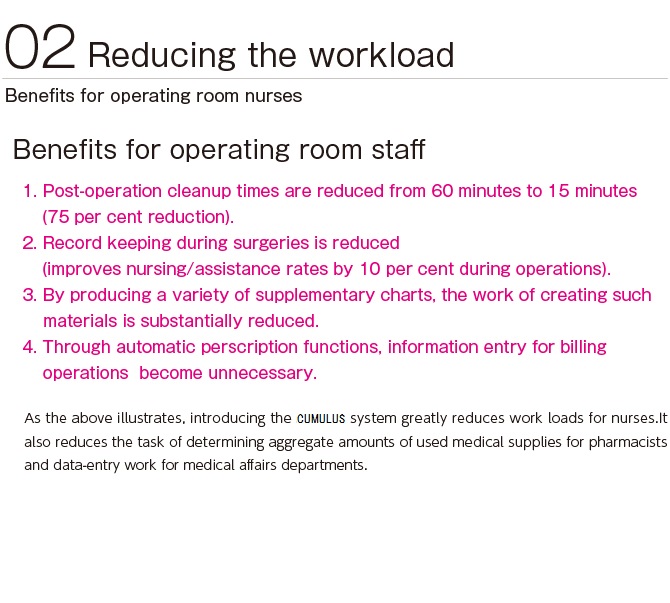 With CUMULUS, master data for injection drugs is entered so that they are automatically recognized.
In cases where an injection drug with no master data is mistakenly entered (or one of the most important controlled medicines), the system switches to a special trey so that the drug can be reliably administered.