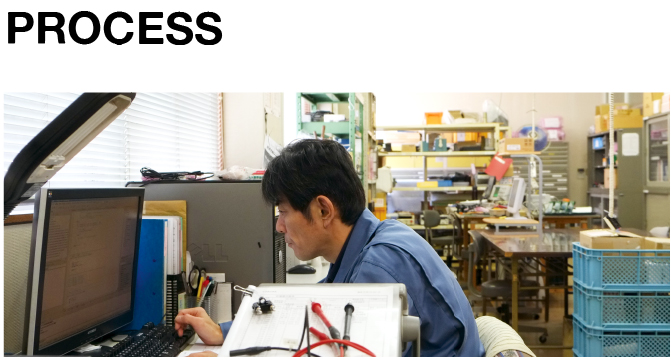 The purpose of the sales department is to become the window connecting the client with a task to OOKUMA ELECTRONIC.
OOKUMA ELECTRONIC is not just a manufacturer. We are a company that can present solutions to clients with difficult tasks. In order to achieve this, we must communicate actively with our client to accurately grasp their needs, and create new solutions and value never before seen. We believe that the keys to the future lay on-site.

No matter how brilliant the idea, its purpose is not realized unless it is released to the public. In order to bring an idea to production, the idea must satisfy all rules and standards, and be handled through production management, quality control, and outsourcing management processes.
We will conduct background support in order to make sure our client is satisfied with our quality.

At OOKUMA ELECTRONIC, we are able to handle the entire production process, from design and manufacturing, to tuning and launch.
This allows us to manufacture products with efficiency and functionality, providing low-cost and high-performance production "only for one"

| | | | |
| --- | --- | --- | --- |
| | | OOKUMA ELECTRONIC is a manufacturer close to the user. Information gathered by our products on-site is quickly fed back to our sales, production management and manufacturing departments, making speedy after service and maintenance possible. Our skilled engineers who created these technologies will personally make the trip to your business site to take care of all your after service needs. Our level of quality maintenance and after service is only attainable through direct involvement from those who created the product. We will support the creation of the future with our "Only one" corporate strengths. | |